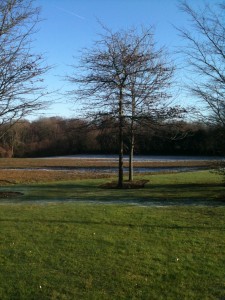 I've made real progress on the happiness side this week.  It's not because of anything specific, but rather an overall feeling of happiness and positivity.  It's almost like I've crossed a line somewhere (and I definitely don't want to go back!).  I've been doing an exercise detailed in the book Get the Life you Want, and in summary it's freeing me from my negative mental ties that have been draining me.  I can really feel the pressure subsiding around me with an added feeling that I can just be myself.
I emailed  Noel  Walker (founder of OpenLeaf and author of Get the Life you Want) and told him the good news.   As you can imagine, he was thrilled and told me that I don't need to worry about going back to how things were.  He asked me to consider anything that moves me away from this feeling (in a playful way) which I have now started to do, and it instantly de-stresses me.
Noel says that the longer I can experience this feeling, the greater the confirmation that things are really coming together.  I also have a greater clarity of mind (which he said would happen) and I have less worries, concerns and issues.
Opportunities are still popping up to test me (which is keeping me on my toes).  A situation came up this week where I trusted my instinct and it was such an easy decision to say no.  Noel wrote "the clearer your mind becomes, the easier it is to make the right decision and, as you say, you just know".  This awareness will allow me to notice perfect situations when they pop up.  The effects of the work with Noel and the OpenLeaf philosophies is really paying off.  What I am experiencing is now tangible! I'm very excited and look forward to the next day before I have even gone to bed at night.
Someone at work called me an eternal optimist this week – maybe I am – but I think it's more than that; it's just knowing that the more I work on myself (in terms of discovering how to realise my potential) the better things get.  Noel and the OpenLeaf team always have the answers in terms of how life is supposed to feel and the next logical step that I can take in the process.  Working on each area of life is key here because everything really is connected.  It's such a great feeling and I am so glad that it's not going to go away. 
I feel happy about:
going to work five days a week
getting home earlier in the evenings
seeing my family more (without doing any less hours at work)
getting my writing done in advance (some of the time) 
getting seven hours sleep a night
I could feel a headache coming on a few times this week, but I managed to chase it away by doing the 'cutting the negative mental ties' exercise coupled with some relaxation – I feel so much more in control with the pressure in the back of my head .  It's all coming together nicely.
A little note to family and friends
I know that a few of you have been worried about me as I always appear stressed and have so much to do coupled with money worries.  I've turned the corner this week and by focusing only on what I want and what I can control, I don't even need to talk or think about the other things anymore.  I am beginning to love who I am,  enjoy life more, and I've been told that this is still only the beginning.  I also have OpenLeaf to turn to, who will work with me to resolve any concerns or issues I have. 
I'm even closer to getting the life I want
My passion is also growing as well as my sense of purpose. What I can see happening in the future is that I will keep this feeling and need OpenLeaf's help less and less.  I'm loving the journey though, as well as the glimpses I'm seeing of the future.
Until next time…
Sandra
Freelance writer
Website: www.sandramadeira.com
Email: openleafjourney@sandramadeira.com
Get the Life Want Pocket Guide can be purchased by visiting OpenLeaf's store
Details of OpenLeaf courses can be found on OpenLeaf events page
If this is your first visit to My OpenLeaf Journey blog please see…
New to the Site…The Story so Far 
You can also follow me on:
Twitter: @OpenLeafJourney 
Facebook page: click here to view
Email: subsciption form below