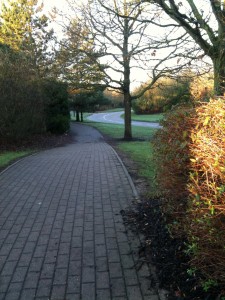 This week has been an eye-opener for me because I thought that with my new sleeping pattern and improved work routine, my headache issue would be resolved.  This was until Wednesday when I got the start of another 'two day' headache and had to take Thursday off work because of the pain – it was hurting the back of my head and neck just sitting at my desk and I just needed to lay down.  I visited the doctor who (in addition to giving me some strong painkillers) is going to refer me to a physio and also asked me to consider the way that I sit at the computer.
After emailing Noel Walker (founder of OpenLeaf and author of Get the Life you Want) one of the first things he pointed out to me was that I had to remove the limiting belief that my headaches would always be 'two' days.   Good point – will work on that!  He also asked me to think about what I am being forced to do when I have the headache and therein should lay the answer to what I should be doing more of.  My immediate thoughts were:
I take time out and put my feet up; maybe watch a feel good film (if the headache is not at its peak).
I spend more time just being with the family rather than pottering around the house doing chores.
I actually take time out to meditate in a room on my own, rather than fit it in on the commuter train on the way to work (where half way through I usually get disturbed by the ticket inspector!).
I still write, but don't spend as much time on my laptop – I make notes in my notebook instead and type them up when I'm feeling better.
I gleaned from this list that I should possibly be doing more of these things when I haven't got a headache.  I also feel that I am still battling with a few things in my head, such as not being able to do the school run even for one day now (even though I know that overall it will work out for me).  Noel says that although I know all the answers, it appears that I am still doing too much – his comments were:
"You are trying too hard.  If you let go of what you are doing, you'll soon find yourself being able to factor in more time to meditate, rest and spend time with the family; but as the dust settles, you'll suddently spot things that enable you to do exactly what it is that you want to be doing, etc.  In other words, everything just clicks.

You might feel that it's a step back, but it's a similar scenario to the one where you returned back to your 5 day week".
He also added that all too often, we find ourselves getting caught up in doing things, sometimes things we believe we need to do for whatever reason, and so fail to spot the obvious (the wood from the trees scenario).
Yesterday I sat down before attempting to do the housework, washing, homework with the girls and decided to create a new rota of chores on the whiteboard in the kitchen.  I used to have a list of daily chores, with the majority of them listed at the weekend.  I have now split them over 7 days, and have discussed it with the rest of the family to see if we can share the load a bit better.  We'll see how the week pans out.
I'm still enjoying life and can't wait to see what the next week brings.
Until next time…
Sandra
Freelance writer
www.sandramadeira.com
Get the Life Want Pocket Guide can be purchased by visiting OpenLeaf's store
Details of OpenLeaf courses can be found on OpenLeaf events page
If this is your first visit to My OpenLeaf Journey blog please see…
New to the Site…The Story so Far 
Before my next instalment you can follow my updates on Twitter @OpenLeafJourney and on my new OpenLeaf Journey Facebook page click here to view. Don't forget to sign up below if you want to receive further posts by email! If you want to drop me an email then please do so, my email address is openleafjourney@sandramadeira.com or feel free to comment below.