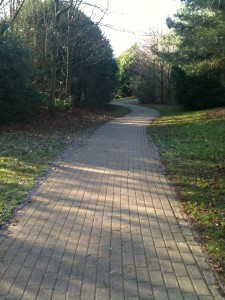 I'm very excited to write this blog because not only has my week been fantastic, but I am really enjoying life.  At the beginning of this year I went back to working five days a week and although I'm working exactly the same amount of hours a week (but spreading them over five days instead of four) it's working out far better than I thought it would.  I'm actually leaving the house at more or less the same time but because I'm going to bed earlier, I'm getting up earlier which is allowing me to fit in exercise, writing and occasionally having breakfast with the girls.  I'm also getting home before six o'clock which means we can eat earlier and have a bit more family time.
Work is also going surprisingly well – I'm enjoying each day more because I'm trying to build into my role more of what I love to do.  I've always been good at prioritising my tasks for the day, but having a goal to leave the office at a certain time (and a reason to get home early) certainly makes me more determined and focused throughout the day – the dividends are really beginning come through.  Interestingly, I'm also able to get more sleep – at least seven hours a night for the last week – and I feel so much better for it.  
On top of that, I know that my mentor Noel  Walker (founder of OpenLeaf and author of Get the Life you Want) will be pleased to know, that at a project meeting on Thursday we were asked to give a happiness score for life and work.  I gave a ten out of ten for life and an eight out of ten for work! 
So, what has changed
During a telephone call with Noel a few months ago, I told him that I was struggling to fit everything into life because of the long hours I was doing Monday to Thursday, followed by weekend tiredness and headaches.  I couldn't, however, see a way out because in order to have my Fridays off I had to work longer Monday to Thursday and although those extra hours didn't seem like much on paper, they did in the end make for a very long day.  This meant that I wasn't seeing the children as much as I liked on those days and I also found myself with surprisingly little or (in most cases) no free time for myself either.  He planted a seed in my mind which went something like this "maybe you've had the benefits of your Fridays off and now you no longer need that time". 
I thought about my achievements last year from having Fridays off every week and realised that my writing had taken off ten fold as well as a number of other things.  As mentioned in previous posts, the decision to lose my Friday was not easy, and I thought long and hard about the benefits.  I also tried to start thinking laterally and imagined everything working out, and you can see the progress I've made from reading my weekly OpenLeaf Journey posts.
By changing my thinking I have been able to stop associating working full-time with sadness and frustration, and as a result, I realised that I had been holding the following limiting beliefs:
Limiting belief  1: If I go back to work five days a week, I won't get to spend time with the girls.
Limiting belief 2:  I have to take or collect the girls from school at least once a week.
….and so I did something about it.  Okay, I no longer get to take and collect the girls from school once a week but I do get to spend more time with them daily and it's made me so happy.  I feel like a daily mum rather than a weekend or part-time mum.  Every weekday is the same and as you know, children love routines.  Now, my whole focus of the day is only on what I want and only on the things that I can influence.
It's amazing how different you feel when you try eliminating limiting beliefs.  Are there any areas of your life where you are feeling stuck and can't see a way out?  What are your limiting beliefs?  Eliminating them and trying something new can help you move forward in your life; however, you must always remember to remain focused and be clear in your understanding as to how you can bring about the things that you want.  It may not appear that the right decisions are being made to start with, but relax and just go with it.  You can always make a few changes down the line.
There are so many exciting things happening with OpenLeaf at the moment as well as many opportunities for me to get involved, but I'll leave that for another time…
If you would like change to happen within your life, but not sure where to start, get yourself a copy of the 'Get The Life You Want' pocket guide (details below).  A £7.99 investment is nothing compared to the return you'll get.  If you're still not sure, take some time out to read (or re-read) my previous posts.
Until next time…
Sandra
Freelance writer
www.sandramadeira.com
Get the Life Want Pocket Guide can be purchased by visiting OpenLeaf's store
Details of OpenLeaf courses can be found on OpenLeaf events page
If this is your first visit to My OpenLeaf Journey blog please see…
New to the Site…The Story so Far 
Before my next instalment you can follow my updates on Twitter @OpenLeafJourney and on my OpenLeaf Journey Facebook page click here to view. Don't forget to sign up below if you want to receive further posts by email! If you want to drop me an email then please do so, my email address is openleafjourney@sandramadeira.com or feel free to comment below.